A once stylish tattoo may now have become embarrassing and outdated. It is not uncommon for individuals to change their minds when it comes to their tattoos. Over time, your tattoo may blur or fade. If you are one of those people who've had a change of heart about tattoos, you no longer need to burden yourself with regret. Depending on your preference, we can have it removed or covered up.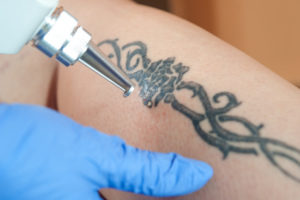 We are a group of physicians and tattoo experts trained and experienced to put the safety of our customers first. We use the safest laser techniques that eliminate the risk of potential complication and scarring. Choosing a professional and reputable company for tattoo removal is always recommended if you want to avoid infection, severe scarring and burns. Our customers are often surprised at our tattoo removal treatments and the quality of service we provide. When you consult a professional for your tattoo removal, you get the benefit of working with medically trained people who can provide you with the best results. We stay educated in the latest technologies so that we can better cater the needs of every individual.
Our Tattoo Removal Process
Our lasers are capable of removing even the toughest green and blue pigments. Factors such as application method, age and color are likely to affect the number of treatments needed. Some tattoos may be removed only partially but some fade over time. Picosure works by delivering light in high peak energy pulses, which when absorbed the skin, shatters the pigment particles and breaks them into fragments that are small enough for the body to remove on its own.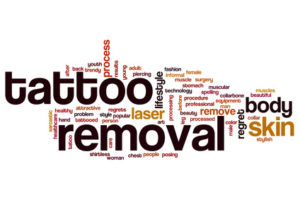 We apply specialty lasers at a variety of frequencies, which break tattoo ink molecules beneath the skin. Enlighten Laser, another method we use, is relatively more effective than all other types of laser removals because it is able to remove all types of tattoo dyes and pigments more efficiently. Picosure's wavelength is only 765 nm, Alexandrite. Enlighten Laser by Cutera, on the other hand, involves two laser light wavelengths with 1064nm and 532 nm respectively. Before continuing with the process, we recommend speaking to a treatment expert because no tattoo removal can ever be guaranteed.
Here at Blast My Ink we use the world's best tattoo removal technique called Picosure Laser by Cynosure introduced in 2012, which fragment the tattoo ink into tiny pieces so that they become easier to remove. Our methods go above and beyond the typical tattoo removal services in Abilene. The methods we use are proven to be effective in moving unwanted tattoo, no matter what the color or how old or big it is.
Tattoo Removal Abilene: What You Need to Know
Just like having a tattoo, having it removed can have the same discomfort. A number of factors such as the size, color of tattoo, and how long it's been contribute to the difficulty of removal. We set clear expectations and inform patients that it takes several sessions to remove a tattoo completely. Before undergoing tattoo removal, we recommend that you consult a professional to evaluate your skin condition and advise you on the best option to take. The price is dependent upon several factors including the type and extent of tattoo, the method used and the expertise of the physician. The average number of treatments needed ranges from 6 to 12. It helps to know what to expect from tattoo removal.
We want your skin to look as natural as possible even after a tattoo removal procedure. You may experience swelling, bruising and redness after each procedure but these are all temporary and will go away after a few days. Most patients require no anesthesia, although those that have low pain tolerance are provided with topical anesthetic especially if the tattoo is placed on a sensitive area. As for scarring, our methods leave little to no trace at all.
The threshold of pain and discomfort is different for every individual, but most people deal with tattoo removal treatments pretty well. Remember to take care of the treated area and avoid picking scabs to avoid scarring. Note than tattoo removal is a personal option so most healthcare insurance do not cover the process. At any cost, never attempt to have your tattoo removed on your own.
79605, 79603, 79601, 79606, 79602, 79607, 79563, 79699, 79697, 79698, 79604, 79608